Mercedes Benz radio code calculator
Calculate your Mercedes radio code from the serial number. Works for most stereo makes such as Apline, Becker, Blaupunkt, Anatel and more.
Where to find the serial number
You can find the serial number of your Mercedes-Benz radio by removing the unit from the centre console.
Blaupunkt radios
Truck
VAN
If you have a Blaupunkt unit, you can see the serial number on the label attached to the side of the box. This number always begins with the letters BP, followed by 13 characters. This number is all you need to unlock the code for your Mercedes Truck.
Becker radios
A140
Sprinter
SLK
ML320
Radio models manufactured by Becker have a serial number eight digits long. i.e. 21012736. Please see the image for the exact location. This number is all you need to calculate your Mercedes-Benz radio code.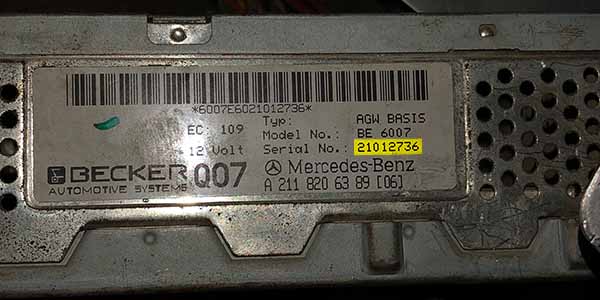 Anatel radios - Citan
Citan
This radio model produced by Renault Anatel, has a 15-character serial number that always starts with 2815. Enter this number in the form at the top of the page to calculate the radio code.
Alpine radios
MF2910
You can get the radio code for your Mercedes with Alpine radio from the 14 characters' serial number. Find this number engraved on the metal of the box. It always starts with the letters AL followed by 12 digits.
Panasonic radios
Find the serial number for a Panasonic radio under the barcode, although sometimes you can find them elsewhere. This identification number begins with the letters PA followed by 12 digits. This serial is all you need to calculate your Mercedes radio code.
Compatible models
Citan Van
Truck
A140
SLK 320
SLK 200
ML320
E240
Actros
A Class
E Class
Vito
W211
More models
5.0
out of 5. Based in 105 reviews
Martin
Very very good. Thank you, you are the best.
Martin GT
nice and easy ... thank you
Rui
Great help and service. Thanks
McCoy
We guys are great
Lamycar Lda
o codigo nao foncionou