Chrysler Radio Code Online Retrieval
Get the code for your Chrysler radio from the serial number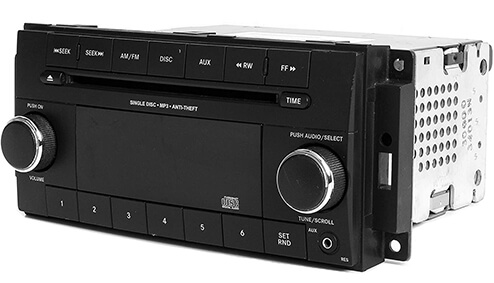 How it works
You can't use the radio in your Chrysler car because it asks for the activation code? This code usually comes on a card with the car's papers, but if you can't find it, don't worry. You can recover the code here and now with our online unlocking service. All you need is your radio's identifying serial number, which you can find stamped on the label attached to the side of the unit. To see this label, you must pull the unit out of the centre of the console.
Our generator works with all stereo models that come in Chrysler cars, which require an activation code after a power interruption. This is nothing more than a system that protects you against theft, but nowadays it has become quite obsolete and tends to give more problems to the owners themselves than to thieves.
Pt Cruiser
Grand Voyager
Crossfire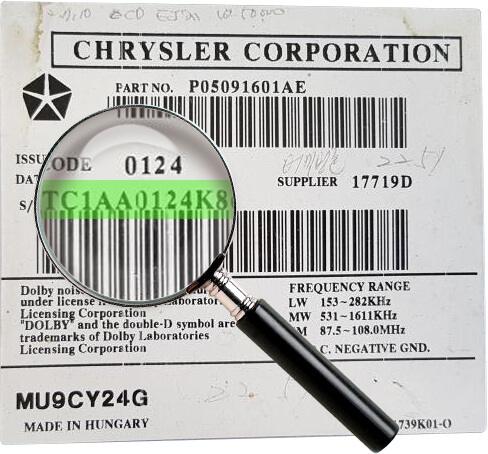 Locating the serial number
All Chrysler car radios have an identification number assigned, by which the unique code that each one has can be generated. Carefully remove your audio unit until you can see a label, which is the one with this number, usually below or above the barcode. A valid Chrysler serial number always begins with the letter T or A2C and is longer than ten characters, including some spaces. We recommend that you take a photo of it before reassembling your radio. Some serial number examples:
TC1AA0124K8653
T 00 AM 094 6 N0304
T Q1 AA 443 3 B1231
T M9 116 443 2 00343
A2C38530300017129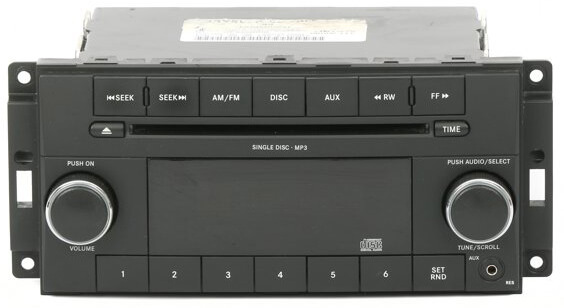 Radio code entry
Entering the radio code of your Chrysler can be confusing at first glance, but simple as long as you follow the instructions:
Assuming the first digit of the code is a 5, press the 1 button five times. If it were a 3 for example, three times.
Do the same with the second digit of the code, using the button number 2.
Repeat the process for the third and fourth digits and their respective buttons.
After making sure you see the correct code on the screen, press the "Enter" button (which is usually the round button) for several seconds.
The audio unit should start working normally, otherwise the code entered is not correct.
Reasons to unlock your code with us
We're super fast
Receive the code for your Chrysler radio within 30 minutes after the order.
Satisfaction guarantee
We assure you the correct code or the money back. Uncomplainingly.
Qualified support
We will help you as much as possible and more than a client, like a friend.
Competitive prices
Get music back in your Chrysler without costing you an arm and a leg.
Highly reviewed
More than 2000 customers have already given their opinion. Check our Trustpilot profile.
Safe payments
Don't risk unnecessarily. Pay safely with your Paypal account or Card.
5.0
out of 5. Based in 105 reviews
Martin
Very very good. Thank you, you are the best.
Martin GT
nice and easy ... thank you
Rui
Great help and service. Thanks
McCoy
We guys are great
Lamycar Lda
o codigo nao foncionou